the stuff of life.
by
dr j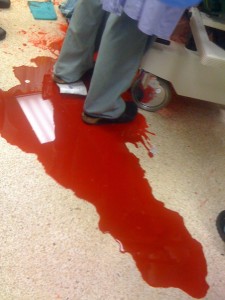 pouring through us, and over us, then, for a moment, we're flowing with it, then we're lost.
a man died today.  men die every day, women too, but this one we were almost there for.  he lost vital signs on the ambulance stretcher a few minutes before his body arrived.
i told his mom.  people don't expect to hear that kind of news, not once a child gets old enough to take care of himself, but there it was.
the bottom of her heart fell open, and the grief painted over me, the nurse, filled that small room until it was heard to breathe. i left to take care of a few pieces of unfinished business, having learned something of the language of sadness, how certain people want to be alone with it for a minute, or didn't mind if i declared myself as one as long as i came back.
i did some paper work, called the coroner, returned to the quiet room and sat beside her, waited.  after a few minutes, she looked up.
i told her about my strange job, the view it offered, hovering near the end.  i told her that most often, the last minutes seem so quiet.  the mind quells, then the body.  when you watch them, you get the taste of a peace we know when returning to a true home.  she held my gaze for a second, tears shaking in her eyes, nodded, turned back to her hands.
i didn't say it because i thought she needed to hear it.  i said it because it is the truth, and in those minutes, it counts.  like it does in all of them.
after she left, i gathered with the nurses who were there when he arrived.  we didn't talk about what went right, or what we might do better next time, just what had come up.  i said i felt a sadness that was going to stick around for a while. i'm glad we tried, someone said.  we all nodded.
we've started talking about these kind of things at work.  it's good.  i'm discovering that it helps to have company more than i knew, not just with the difficult things that can seem yours alone, but in the many joys that seem part of this difficult, worthwhile work, that all humans share, how to live, how to love, how to let go.